Few people consider the production of electricity when researching housing alternatives that are better for the environment. The fact is, according to the National resource Defense Council, the electric industry is a major source of pollution in the United States. Sulfur dioxide, nitrogen oxide,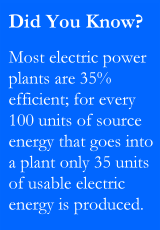 mercury and carbon dioxide, elements found in power plant emissions, cause or contribute to environmental and health problems including acid rain, smog particulate pollution and mercury deposition.
The answer to reducing the electric production emissions lies in reducing the amount of electric energy used. The only way to do this without effecting quality of life is to choose an energy source, like propane gas, that does the job it's given to do more efficiently. Roll your mouse over the image below to see where you can replace electric appliances with energy efficient propane appliances.